The following is the full text of an article published in Australian Amateur Boatbuilder Issue No11 Autumn/Winter 1995 It's no literary masterpiece, but is reproduced here for historical interest!
I have re-read it myself for the first time in ten years or so, and have to confirm my first great impressions haven't changed!
---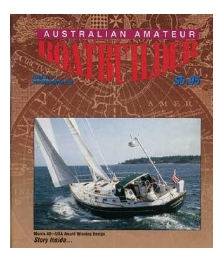 After many years of threatening to find a boat to make do until we can afford a proper one again (say 12 metres, Bridge Deck Catamaran,) it came as a pleasant surprise to open the pages of this magazine and discover that someone had taken identical criteria to my own and actually designed a boat around them.

Ease of construction, simplicity of operation, and most importantly minimal cost, it was all there in Michael Storer's Goat Island Skiff design. With trembling hands (they always tremble when I sign Cheques) I sent my first letter to Michael, and in return received a package of more than seventy pages of plans including the most comprehensive set of how-to instructions, materials schedules and helpful hints I had seen in a long while.

I must confess that for me the prospect of actually building a boat of any useable size was nowhere near as attractive as dreaming of doing so, and as this was to be my first sojourn in the boat building arena, before commencing any work I was anxious to ensure that completion of the project could be achieved in a reasonable time period despite my somewhat limited skills. After studying the plans I was completely convinced, this was going to be "IT", and set about building a scale model to reassure myself that the lines of the finished vessel matched the picture in my mind.
The model also served as a useful practise run for construction. By following the actual construction sequence set out in the plans I was able to get a feel for the scope of the work which I was about to undertake and gain an understanding of the process at the same time.

I was originally attracted to this particular design by it's sheer simplicity, including the sail plan which utilised a second hand Laser sail for economy, but I must confess that after building the model I was seduced by the alternate 'Romantic' balanced Lug rig, and materials were ordered accordingly. Designed to be constructed using the Instant Boat principle (no jigs, no framing, no stitch and glue), construction could not have been more trouble free.
Contrary to almost every account I have read of other peoples boat building traumas, there is no misadventure in this tale, just compliments to the designer for the clarity and accuracy of his plans and instructions, and I suppose a reminder that time spent in detailed planning and preparation before commencement of actual work will be recouped many times over during the construction period. To that end, I managed to plan construction so that all the bits were made ready for assembly and finishing over my almost two week Christmas break.
This, according to my plan would involve completing the construction of foils and spars (timber) together with all bulkheads and fiddly bits before commencing any assembly of components. I reasoned that this would enable me to buy timber in affordable little bundles, and keep me happily occupied for a couple of months, while the car could remain in it's customary spot, in the garage. Unfortunately business delayed commencement for several months and I couldn't really take delivery of the timber till mid November, so much for planning!
The delay did provide a bonus for me however in the form of Derek Taylor, who had taken delivery of the first set of plans, and had completed his skiff in less than four weeks of more or less full time work! After taking me for a row to prove it would float, Derek kindly allowed me to take photographs of his boat from all angles, and these became a constant source of reference and inspiration during my own construction adventure, which I began to record in my diary for posterity. The following are extracts from my notes of the time:-
Day 1! 25th October 1994; Got the epoxy, but the timber didn't arrive, won't for another week.
Day 1(2) 27th October; Plywood didn't arrive either, maybe tomorrow. Can I start to build anything using just epoxy?
Day 1(3) Friday; Well I'll mark and cut the ply this weekend at least, oh, no timber, no fairing batten! It's OK, found a bit of old D mould in the garage roof and got stuck in. Probably lofted the bits fairly efficiently but still took about six hours to mark out the lot. More good news. My timber order arrives next Thursday (complete with redundant fairing batten). I'll be in Jakarta. Might slow things down a bit!
Day 2 Saturday 5th Nov, Managed to juggle business appointments and other stuff but no jig sawing. Cut some of the bits on Sunday ; absolute dismay when I made the first cut on the wrong side of the line. My boat will have 6mm less freeboard than standard! End of week one. Some ply cut, but none stuck together , need to check the sides to make sure they will work properly with my little bit of customisation. Start again on the 12th November on my return!
Day 3 Saturday 12th; Home again, checked the timber delivery and surprise, surprise, found a few bits missing. Poop! Got the mast blank squared up and the boom shaped on Sunday in between watching the Australian Grand Prix and entertaining clients who seem to think that their project is more important than my boat. Still totalled about eight hours for the weekend and made a little progress.
Tuesday 15th and I'm on a roll! Had the foil blanks surfaced and thicknessed this morning at the local joinery, left work early, home by six and got the lug blank squared, made the foil template and finished shaping the rudder blade; looks great at the moment, pity it's got to be inexpertly glassed and therefore painted. Four more hours under the bridge.
Saturday; Foils are ready to glass, boom finished except for drilling holes and epoxy, mast finished for about one third of its length, lug yard 16-sided, bottom skids complete.
Sunday too busy and too tired from sanding the endless round bits. I remember seeing a photograph somewhere of someone using an electric drill with a drum jigger on it to power a sanding belt turned inside out to round off a spar or oar section. I haven't tried to make one, but there must be some way for blokes with skinny little office worker's arms like mine to sand spars a little more efficiently !
So here I am, Monday evening the 22nd November with all the ply bits cut, foils and spars mostly finished and the first 30 hours of construction well spent. Thus far I must say that the design reflects a great balance between function, aesthetics and ease of construction. I don't think it would be too optimistic to estimate construction time as three weeks of hard full time yakka plus painting, but I'll confirm that after Christmas. By my sums a launch before Australia day is a realistic target, depending on how many coats of paint are applied.
The beginning of the Christmas engagement merry-go-round will have some impact on my programme I guess, but at least I am almost at the fun bit, where the car will have to sit outside for a few weeks and progress will be obvious for a time.
26th November; Glassed the foils and painted on a light bog mix, now we just need a hundred thousand hours of sanding. While the roller was wet, I glassed the inside faces of the centreboard case for good measure. Also laminated and shaped the tillers and will start assembly of the rudder case next time I have a few minutes, but I'm off to Singapore for a week to do some work , so don't expect too much progress for a fortnight!.
Sunday 11th December; Another weekend of social engagements and constructus interruptus, but the bulkheads and transom are framed, the chine logs are fixed and finished and the ply bits are joined, so I reckon from next weekend we might start to see some form appearing. I had hoped to have the completed panels precoated by now, but that didn't happen in the midst of all else happening.
Sunday 18th; Disaster follows disaster. Spent four hours working yesterday and five yarning to passers-by. All the bulkhead bevels were completed and notches cut for chine logs and stuff so precoating actually happened today,(side one anyway,) so did the penultimate sanding of the foils. I just can't motivate myself to complete the sanding of the spars at the moment because that's too much like hard work.
Wednesday 22nd ; It's all go! I'm on holidays and ready for full time boat assembly. By not quite following the recommended sequence of construction, and with a couple of clamps and simple levers and Spanish windlasses, it was not all that difficult to assemble unaided either. For the record, I chose to fit the sides to the structural components in the following order after experimenting with the model; Stem, Bulkhead 3, Transom, Bulkhead 4, Bulkhead 1, Bulkhead 2. From here every day there is visible progress, interrupted by Christmas shopping. The bottom is fitted and it's really exciting! Seat frames and tops are completed. I promised not to touch the boat on Christmas Day, but it was hard to lose momentum, and I snuck out and glued in the centreboard case and fitted the inwale spacers anyway. At this point my notes end as I considered that the work was just about over. Wrong! The completion of the fiddly bits, mast step, structural knees, gunwales, inwales etc. was straight forward enough, and I had glassed the chines on Boxing Day and sanded and filled and sanded on the days that followed, and made the rudder case, tiller and tiller extension. Progress was happening in leaps and bounds and in my enthusiasm I was blissfully optimistic regarding the time that sanding and painting would consume.
At 9.00p.m. New Years Eve I completed rolling on the first coat of high-build primer outside the hull unaware that I would be spending the next two days with aching arms and covered in dust. Even plywood needs preparation and fairing to obtain a tidy end result. This wasn't in the brochure! Holidays over, nights were spent sanding, fiddling with little bumps and pinholes, sanding, spraying another coat of primer ( the last one had been largely sanded off by this stage), and more sanding. At about this stage I was really glad that it wasn't the 12metre Catamaran of my dreams, but we were eventually ready for the glossy stuff on Saturday. Spray, lock the garage and have the rest of the day off.
Sunday 8th January; pulled out the spars again and stared at them for half an hour trying to summon the energy to start sanding again. Finally realised that I could do a lot more shaping with the spokeshave before final sanding, and plugged away until the job was finished. Monday; Gary Martin delivered the sail. It looked terrific and I started to believe my self imposed Australia Day deadline for launching was going to be a reality, after all I only had to finish epoxying and varnish the interior. Then the winds came. So did the rain. Thunderstorms. Dry westerlies carrying dust. Storms that brought down power lines. Grown men crying while they build trailers instead of finishing boats. Eventually five coats of varnish were applied by night interspersed with more sanding of course, and garnished with the remains of Kamikaze moths. Finally we were finished .
At 2.30 p.m. on Saturday 11th January after three months gestation, GRUFF was launched with all the pomp and ceremony one would expect. The weather was really crook; typical launch date stuff when you're hosting a party for fifty or so people. Wet, strong wind warning, miserable. We delayed 45 minutes or so waiting for the Governor to turn up to do the deed, but her Vice Regality mustn't have received the invitation and Jo (my long suffering wife, soulmate, supporter, but definitely not boat building assistant) stood in for her. ( Made a nice change from washing bog dust and wood shavings out of the bedclothes.)
Miraculously the wind dropped to a mere zephyr for the next hour and a half and Goat Island Tours operated around Manly Harbour, stylishly carrying up to six passengers at a time. It was difficult to draw any proper conclusion on performance at the time due to the weather, and a phenomena I have previously heard described as 'overloading',however, stability was remarkable, and in the very light breeze the boat moved effortlessly while the Sharpie/505/Contender guys all looked on with incredulous envy as we sailed past them.
One of my highly pedantic mates observed that the wake was very clean, but there was a bit of a bow wave. I could fix that I think, by taking two or three bods out of the front bit! "A handsome boat for rowing, sail or power" was Michael Storer's description in the advertisement, and in my only slightly impaired view of the finished product, this has been achieved with a curious blend of old and new, sophistication and almost brutal simplicity.
The hull is slab sided and flat bottomed with a gentle rocker, or at least that is an accurate account of the elements in its construction, the resultant form has an elegance that belies its simple construction. Modern efficient foil shapes are a surprising and pleasant contradiction given the design origins of the craft, and their operation provides a good example of the simplicity of detailing that prevails. The dagger board is angled in a simple box-case with two holes and a rope handle neatly taking care of the uphaul and serving as an efficient stopper as well. The rudder follows this theme to a greater level, being housed in an open backed case and secured by a rubber band! Sounds terrible, but in reality, hideously simple and effective.
The rig I'll admit was a problem for me. In spite of the fact that I had deliberately purchased plans for a boat which would never be raced, I could not come to terms with sacrificing performance for the sake of appearance. I wasted a lot of Michael's time whingeing about the inefficiency of the lug rig, etc, etc, and he just kept ignoring me until I finally relented and built the thing to plan, which was of course his intention all along and the most cost effective option anyway (next to the second hand Laser rig). The standing rigging, consistent with the detailing elsewhere is minimal in the extreme. In fact there is none. The freestanding mast is surprisingly heavy, but slots neatly into place without the need for further support. As it actually only forms two thirds of the total rig height, and the lug yard is just as surprisingly light, everything comes together in a beautifully balanced way.
Mechanical fixings have been kept to a very bare minimum to minimise maintenance and cost, with most fixings comprising rope ties lieu of screws, saddles or cleats, and again this system works very effectively. Would I build another boat? Forget that oft quoted line of Ratty (or was it Mole?) about the pleasures of messing about in boats. There really is simply nothing more satisfying and therefore pleasurable than being able to say :" Yeah mate, built 'er m'self."
* * * * * Since writing, the above, we have had many adventures and the boat has indeed lived up to expectations, on the water it feels light and is lively under sail, is extremely easy to row, and remarkably lively under sail.
---